Halls of Flame South



Wool:

Light Blue

Area:

Previous:

Next:
Halls of Flame South
is a dungeon area in
Sea of Flame II
, a CTM map by Vechs.
Overview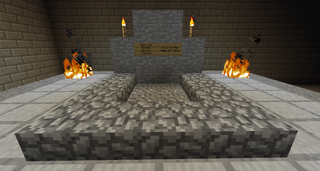 This dungeon takes the appearance of a huge room made out of stone and stone bricks, containing 5 rows x 7 rows of tall columns made out of stone, stone slabs and netherrack. Right in front of the entrance is a tombstone with signs saying "Here lies Volzael Son of Forsael Lord of the Halls of Flame", surrounded by a lava pit. There is also a rail track between Arcane Ruins and Cathedral of the Suidae going through the middle of the room. The fleecy box is located in the pillar that is in the middle row out of the five rows, and 5th row from the main entrance out of the 7 rows.
Points of interest
Resources
Hostilities
Strategies
Leads to