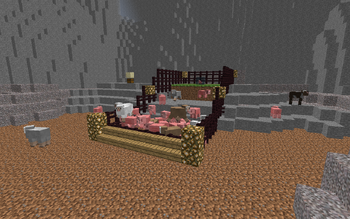 Hostile Trails is a series by Vechs wherein players must bring ten of a specific mob type to the Victory Pen.
Overview
Hostile Trails is an experimental map type Vechs tried, intending it to be a mix of Oregon Trail, Lemmings and Railway Sim. Hostile Trails' goal was to bring ten of a passive mob across hostile terrain to the Victory Pen. The mob in question was found at the spawn area, and the Victory Pen was at the end of the map.
Maps
Only one map of this kind was ever made, and the idea was quickly abandoned.
Trivia
Pigget Panic was an experimental map for the series, and considering there has been no sequel, it's likely the map did not appeal to Vechs.