The Battle for the Molten Depths



Wool:

Red

Area:

Previous:

Next:
The Battle for the Molten Depths is a name given to a dungeon area in Sea of Flame II, a CTM map by Vechs.
Overview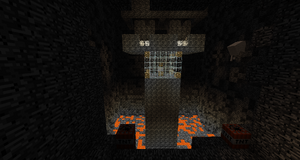 The entrance to the dungeon is by a piston door, leading to a small preparation room, containing some chests, furnaces and a crafting table. There is also another piston door, this time leading to the real challenge.
The beginning part of the dungeon is made out of netherrack. It has many dispensers loaded with arrows facing away from the entrance. The dispensers can be used to shoot the arrows simply by walking on the wooden pressure plates behind them. In the middle of the first part of the dungeon are a few rows of cobwebs and some spawners. From the other side there are more dispensers loaded with arrows, this time facing the entrance. These dispensers also have wooden pressure plates and many spawners behind them. This makes it possible for the spawned mobs to shoot the arrows from dispensers simply by walking. There are four rows of dispensers like this. Each of the rows also has a TNT block in it.
The next part is made out of bedrock and contains several sandstone structures, each containing a creeper spawner. All of them also have a TNT block near them.
Once the player reaches the end of the hallway, they'll have to face the final challenge of this dungeon. The fleecy box is up in the air in the middle of a tall room. The bottom of the room is partially covered in lava, and there are ghast and skeleton spawners near the fleecy box.
Points of interest
Resources
Hostilities
Strategies
Leads to