Waking Up

Waking Up

Linear Branching

Easy

Not Rated

Version

3.6.4

Compatibility

1.3 - 1.4.7

Download

Previous Map
"
Based on a short story of the same name by Andrea J. Buchanan, this CTM map is a wicked and challenging experience, which has been officially adopted as part of the Super Hostile series. Fans of Kaizo Caverns and Spellbound Caves will really enjoy this map. But, fair warning, it's very difficult.
"

–Vechs
Waking Up is the fourteenth Super Hostile by Vechs. This is considered one of the hardest Super Hostile to date. Vechs was commissioned by author Andrea Buchanan to create a Super Hostile map to go along with her book Waking Up. Within the map, the player can find the 20 chapters of the book as an optional side mission.
Vechs officially recommends playing this map in Minecraft 1.4.7, though it was originally released for Minecraft 1.3.1. Playing in Minecraft 1.4 will give you access to Anvils and Potions of Night Vision and Invisibility, and it will make the Nether portion of Inventory Wipe Horror Festival easier in places (due to Skeleton+Minecart turrets being filled with melee Wither Skeletons instead), but it can also make some areas more difficult due to the presence of Bats (and their annoying tendency to fly in front of your arrows).
Overview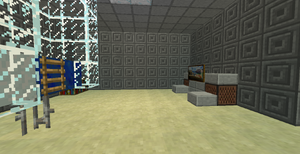 Waking Up is set underground with 16 dungeons including overgrown caverns, old castles, and platforms floating above void. Most of the dungeons in the map are populated by numerous creeper spawners, often placed in tight quarters or near edges of pits. The map has four intersections connecting to most of the wools, each with increasing difficulty.
Areas
Dungeons
Intersections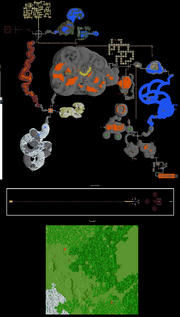 Strategies
Stay very alert; this map contains a variety of hidden traps. Keep an ear out for potion turrets (and the cave spider minecarts that activate them) and hissing TNT (from proximity bombs).
Be prepared; pack your inventory with items you think you will need and then add more. However, don't add too much more, or your next death could be very costly.
Making multiple runs in and out of areas is important.
Have decent blast protection, most of the dungeons are heavily populated by creeper spawners.
Use torches and other sources of lighting to limit spawns, else you risk being swarmed by mobs from both spawners and natural spawns.
Trivia
There is another map by Vechs by the name of "Gift" which is also based on one of Buchanan's stories, which also has a harder variant called "GIFTWARPED." Both can be downloaded here.
If you were to enter creative mode and fly to the top of the first room after Talia's Bedroom you would find that the world above is nothing but bedrock.
The official Super Hostile Map Download page has version 3.6.4 of this map, but at one point version 3.6.5 was also available - the only known differences are in Legion Halls, The Nest, and the railway between Upper Deathshallow Ruins and the Cavern of Peace.
Videos
Waking Up
Intersections
Areas
Dungeons