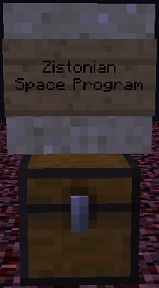 Zistonian Space Program is a name given to a special enchanted item found in some CTM maps made by Vechs.
Overview
The item is basically a sign with a Knockback X enchantment. There are usually 13 of them in a chest.
Locations
Zistonian Space Program can be found in the following locations:
Trivia
The item is a reference to Zisteau, a YouTube let's player. It's also one to Kerbal Space Program, and one of its usual strategies: if all else fails, add more thrust.